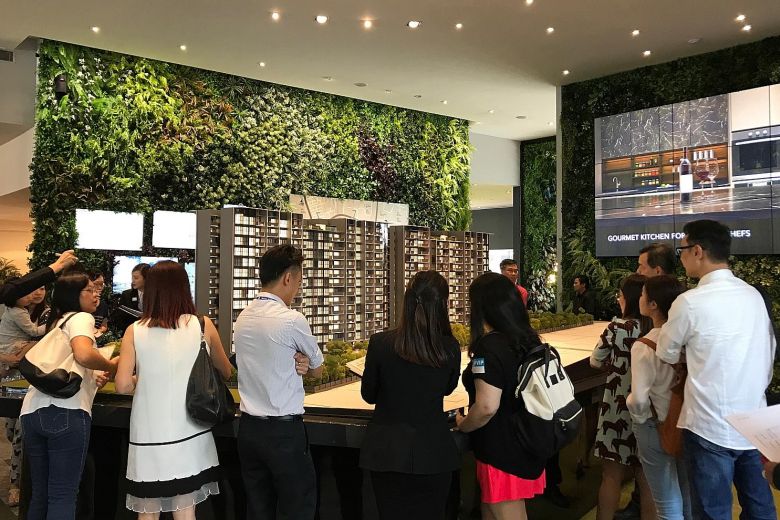 Some located near proposed stations on future MRT line see boost in sales
The upcoming first phase of the Cross Island Line – Singapore's longest fully underground MRT line – seems to be proving a bonanza for some condominium projects near proposed stations.
Affinity at Serangoon and The Garden Residences, which were both launched about a month before the cooling measures were introduced on July 5 last year, have seen a spike in buying interest since details of the new line were announced last week.
The projects in Serangoon North had been recording moderate take-up rates following the cooling measures due to their proximity to each other, competition from new launches in the area and a lack of MRT connectivity at the time.
But within seven days of last week's announcement, Affinity at Serangoon has sold around 45 units at an average price of $1,475 per sq ft, including around 30 over the weekend, said Mr Eugene Lim, director of sales and marketing for Oxley Holdings, which is leading the consortium for the 1,052-unit project.
He told The Straits Times that about 360 of the 650 units launched so far have been sold.
"We normally do about five to eight units over a weekend. The MRT story is a very strong factor," Mr Lim added.
"There was no station nearby previously, but we will now be a five-minute walk from the Serangoon North MRT. Developments near the MRT can achieve high rental yield."
The so-called MRT effect tends to be more pronounced in the suburbs, where accessibility to stations is a big plus, especially if these areas are farther away from the city centre, said Ms Alice Tan, director of residential project marketing at Knight Frank Singapore.
Once a new line is announced, there will usually be a short-term boost to sales and in some instances, price increases, in nearby projects.
"Investors can usually expect greater price growth when the station is near completion," she added.
"In previous announcements for the Downtown and Circle lines, the positive spillover impact was more broad-based, influencing resales and new home sales, and the sales increase was more gradual over a few quarters to a year."
The 613-unit Garden Residences, also near the future Serangoon North MRT, has seen increased interest since last week's announcement, said a spokesman from Gardens Development, a joint venture between Keppel Land and Wing Tai Holdings.
Almost half of 156 units launched were sold as at the end of December, the spokesman added.
The first phase of the Cross Island Line will be completed by 2029 and span 12 stations from Changi to Sin Ming. Phase 1 will have four interchanges.
Bright Hill, a station on the Thomson-East Coast Line, will expand to become an interchange station. The others will be Hougang with the North East Line, Ang Mo Kio with the North-South Line and at Pasir Ris with the East-West Line.
The 1,472-unit Riverfront Residences in Hougang, whose launch was brought forward to July 5 in a last-minute bid to beat the cooling measures, will likely be a beneficiary given its proximity to Hougang MRT.
"Developments near Hougang MRT station will benefit… This will impact The Florence Residences and Riverfront Residences," ERA Realty key executive officer Eugene Lim said.
The 1,410-unit Florence Residences, the former Florence Regency, plans to tout this as a selling point at its preview on Feb 16 and launch on March 2.
"We will be near the upcoming Hougang Interchange, which is good for investors and those commuting between Jurong and Changi. In addition, we are already near Kovan MRT," said Mr Chng Chee Beow, executive director of Logan Property (Singapore).
"Source:[Cross Island MRT Line gives condo projects lift] © Singapore Press Holdings Limited. Permission required for reproduction"